Kitesurf Lessons and Rental Options
Are you looking for a kitesurf school in Spain? Or a place to rent a kitesurf set, SUP or longboard?
At the KiteFinca there are many possibilities for the (future) kitesurfer.
We offer, for example, powerkite lessons: a great activity for all ages where you get to know the kite. But we also offer beginners lessons in the water: the real thing! 
Are you already able to kitesurf? Our certified coaches will quickly take you to the next level: jumps, unhooked tricks or a steady position upwind.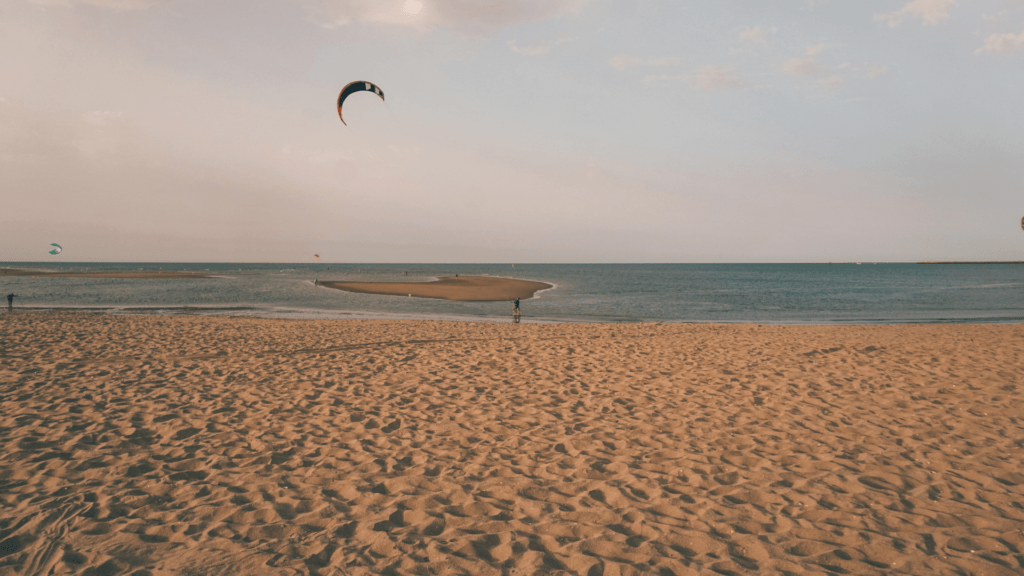 Kiteboarding off the beaten path with certified instructors and reliable, safe equipment from PLKB.
Beginners lessons
Learn to kitesurf while staying at an authentic, eco-friendly guesthouse in the South of Spain. We offer lessons on spacious and safe kitesurfspots. Our IKO-certified instructors give private (1 on 1) lessons and semi-private lessons (2 persons, same level, 1 kiteset). Each class lasts 1.5 hours. Including all material needed. €105 – €75 p.p.
Taster course
Not sure if kiteboarding is your cup of tea? Not to worry! We offer introduction powerkite-lessons. This course takes 1 hour and can be done private or in small groups (max. 3 persons). Including material. €35,- p.p.

Progress fast: get KiteCoaching
The experienced instructors at our kitesurf school will help you reach your goals in no-time. Thanks to an advanced system we use, to communicate with each other remotely. This course is excluding material (for rental options, please see below). A coaching session takes up to 1 hour. €50,- p.p.
NEW: foil classes 
Our instructor Ferry is going to help you to get on the foil board! This latest craze must be tried and the kitespots here are perfect for this new kiteboarding-discipline. A course takes 1.5 hours. You can use your own kite. Board with small mast is provided. €115 p.p.
Prices are per person. Questions? Just reach out!
Introduction Powerkite

€35

Duration: 1 hr

Duration: 1 hr, including BB talking, excl. material

Duration: 1.5 hr, including BB talking and material
Are you visiting us without your gear? We have PLKB quiver for rent!
Show us your IKO level. If  you are not able to do so, we offer quick (refresh-)lessons for a special price. Get in touch to get more information about this. 
You can rent your kiteset from €35/ day (min. rental period is one week).
Additional day after this:

€30
Another great activity for all ages, is Stand UP Paddle. We offer custom classes (contact us for details) and SUP rental from €25/ day.
Additional day after this:

€7,50
Looking for another boardsport?! Let's go longboarding! We offer custom classes (contact us for details) and longboard rental from €15/ day.
Additional day after this:

€7,50